Hnry is proud to announce our partnership with Dylan Alcott, AO – Australian Paralympic Legend, Disability Advocate, sole trader, and all-around good guy. 💪


It's nothing short of an ideal match. We're huge fans of his tireless advocacy for the disability and NDIS communities, and he "bloody hates tax time". So now, we sort all his tax stuff for him, and he helps spread the word about how Hnry can save sole traders time, effort, and money.
(Spoiler alert: it's by using our tax service.)


Dylan Alcott: sole trader, and bona fide icon
Although he needs no introduction, we love taking every opportunity we can to talk about our favourite sporting hero and absolute legend.
Dylan Alcott is a former Paralympian in two different sports and tennis all-star, current disability advocate, Foundation Founder, business owner, actor and so much more! At the 2008 Beijing Paralympics, he played for the Australian wheelchair basketball team the Rollers, winning his first paralympic gold medal at age 17.
As if that wasn't enough, he won 23 Grand Slam titles in wheelchair tennis, as well as being the only male professional tennis player to ever win a calendar-year Golden Slam – one of the first athletes to do it since Steffi Graff in 1988 🤯
Now he's retired from the sporting stage, Dylan applies his talent across many areas, including his life's purpose of changing perceptions so that people with a disability can live the lives they deserve to live.
In 2017, he founded the Dylan Alcott Foundation, which awards grants, scholarships, and other support structures to young Australians with a disability, helping them to dream big and achieve the extraordinary. His foundation also runs the annual Ability Fest, a festival which uses music as a platform to normalise disability and promote accessibility.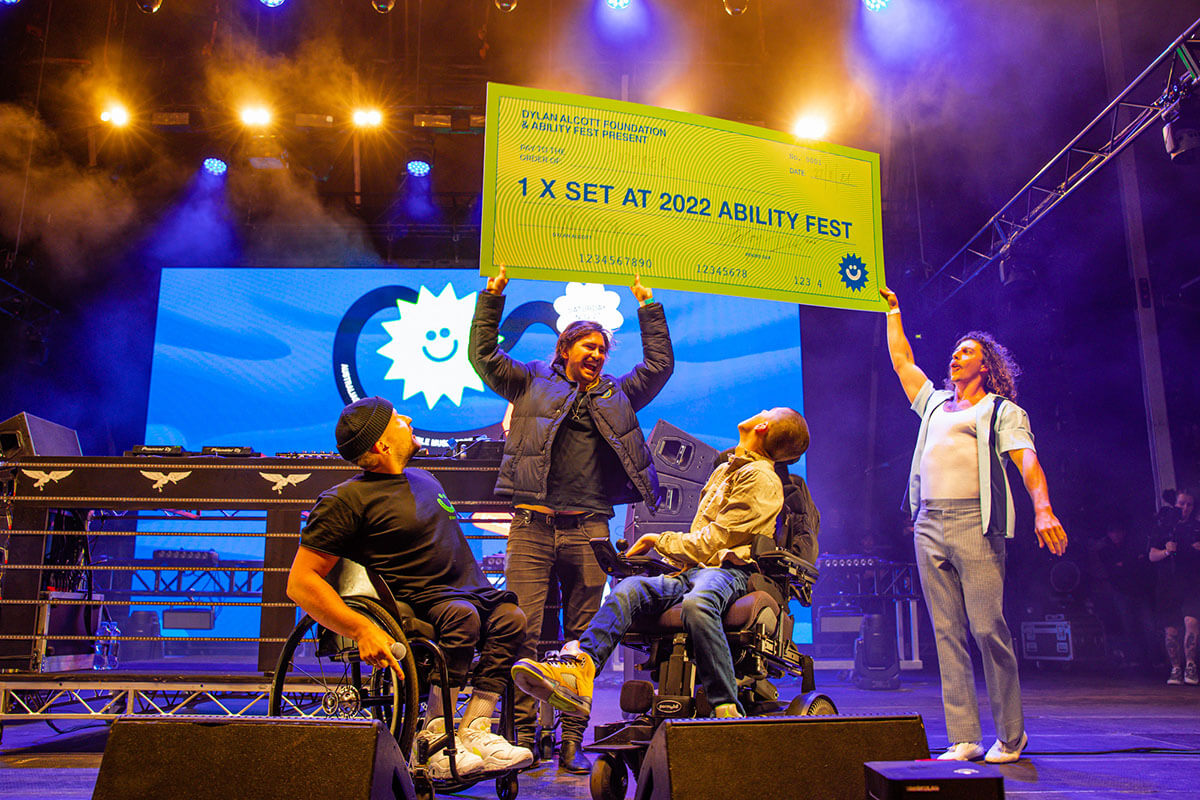 It's all incredible stuff, and a fundamentally good time. And you can support their life-changing work by donating here.


The Hnry Partnership
On our end, partnering with Dylan Alcott was a no-brainer.
As our CSO Karan Anand put it, "Dylan and Hnry are such a great fit – we're passionate about fairness, inclusion, and equality, which are values we live by in our work advocating for all sole traders."
Our Head of Creative and Brand, Michael Beveridge, took it one step further.
"I met him at a Wu-Tang concert in 2016," says Beveridge. "He's a good egg, we're good eggs. It's a seamless mix."
As for Dylan, he's long been a Hnry fan.
"I bloody hated tax time, just like everybody else," Dylan says. "But that was until a mate of mine introduced me to Hnry. It took like 60 seconds to sign up, and now my tax is easy. I've got more time now to do things I love – hang out with my partner and friends, walk my dog. And focus on living out my purpose."
Dylan was actually part of our recent Series B capital raise, through Australian investment firm Athletic Ventures. This partnership is just a case of him putting his mouth where his money is – and we're beyond proud to plaster his face everywhere we can.
DISCLAIMER: The information on our website is for general educational purposes only. It doesn't cover all situations and circumstances, and shouldn't be taken as direct tax advice. If you're looking for specific help with your taxes, join Hnry and our team of experts can provide you with assistance tailored to your business needs.
Share on: